Membership has its privileges.
For 70 years, Crestwood Hills Association (CHA) has been an active advocate for the interests of the neighborhood and maintaining its tranquil quality of life. The Association, run by volunteer residents, has been instrumental in preventing roads from connecting Mulholland Drive to Kenter Avenue, preventing the construction of a county dump in a neighboring canyon and lobbying for improvements to streets and Crestwood Hills Park.
Annual membership fees help the CHA accomplish many things:
Supporting the Conditions, Covenants and Restrictions (CC&Rs) attached to the deed of each property in the neighborhood, and assisting the architectural and tree committees to that end
Financing and coordinating annual brush clearance and tree trimming of the neighborhood's vast common areas
Publishing the Crestwood Hills Views newsletter, email updates and maintaining this website
Maintaining the preferential enrollment agreement for CHA members' children with the Crestwood Hills Preschool—a cooperative founded by Crestwood Hills residents for area children
Maintaining a seat on the board of the Brentwood Community Council and representing the neighborhood's interests to city and county officials
Organizing picnics, parties and other social events
Maintaining the Crestwood Hills community archive, a repository for resident architectural plans and our unique history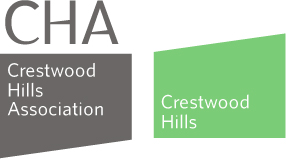 Renew or join:
Or mail a check for $75.00 payable to:
Crestwood Hills Association
986 Hanley Avenue
Los Angeles, CA 90049
Are you on our mailing list?
Click here to register or to update your contact information.
Want to get involved?
Contact us with your area of interest. We are always looking for volunteers to help with planning social events, writing for the newsletter and blog, welcoming new members to the community, and much more.